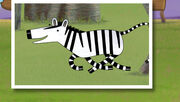 Karla is a 9 year old talking zebra who loves to ask so many questions and wants to be like Mama Mirabelle when she grows up. She was Chosen to be Queen of the Zebra Herd on Season 1 and officially became Queen on Season 2. She is voiced by Mary Katherine Dillon n the U.S and U.K and was the only character that still had a american voice in thei U.K release and the Crystalites. loves to play "I Spy on My Little Eye" and spot the animal far away. Her friends are Max and Smith and she loves to play with Max and Smith. She loves to watch Dan's Animal Movies.
Her Actress is the Only one that could Reprise her role in the Video Games.
Like the Rest of the Main Characters, She Appeared in the TV Show, Sprout House.